.
.
Hot Four
.
"A highly original and inventive quartet."
– All About Jazz
.
.
Andreas Backer – voice
David Stackenäs – guitars
Joe Williamson – double bass
Ståle Liavik Solberg – drums/percussion
.
.
.
.
.
Hot Four plays open-minded improvised chamber music, focusing on musical textures, dynamic variations and timbre, influenced by European improv tradition, modern jazz and contemporary classical music.
For some years, the musicians now also have been playing together in different projects, so forming the group seemed natural in many ways. As a group, Hot Four's been touring and playing concerts since 2012, supported by Arts Council Norway (Norsk Kulturråd) and Norsk Jazzforum. Hot Four even played an hour live on Sveriges Radio P2, December 2013.
.
The members of Hot Four has released a lot of different albums, and they've been touring and playing with various bands/musicians, such as LabField, SEVAL, Lina Nyberg Band, The New Songs, motsol, VCDC, Zas trio, Kitchen Orchestra, Andy's Circus, Andreas Backer Trio, Björn Berg Borg, Ester & Andreas, Mats Gustafsson, Raymond Strid, Evan Parker, Barry Guy, Paul Lovens, John Russell, Axel Dörner, Sofia Jernberg, Sten Sandell, Michael Zerang, Fred Lonberg-Holm, Ken Vandermark, Paal Nilssen-Love, Jim O'Rourke, Han Bennink, Steve Beresford, Roger Turner, Frode Gjerstad, Per Zanussi, Nils Henrik Asheim, Henrik Olsson and many more.
.
.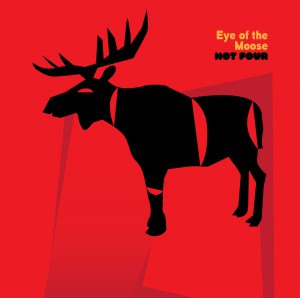 Said about "Eye of the Moose":
.
"Together the four dive, head on, into a thick, intense exploration of various dynamics, textures and timbres. The notion of playing music receives a new meaning with these highly resourceful musicians. They enjoy the innocent and often eccentric, unattached to any musical conventions. A game-like process of playing— finding and inventing sounds, shaping and mutating these sounds, collides these sounds without any preconceived ideas what might happen next, but react immediately to these sonic occurrences. Songs are performed with a rare collaborative and emphatic manner.
.
There is a delicate balance between all four players on the first, title-piece, that embraces a gentle flow of wordless, stream-of-consciousness vocals by Backer. This interplay changes course to one that is more dense on "Antler of the Moose," where they establish a nervous, rhythmic world of sound. Nothing is conventional, not human vocals or those produced using extended techniques on drum skins, cymbals, or guitar and double bass bodies and strings. Still, it all sounds organic, nuanced and surprisingly coherent. This inventive, collective improvisation rests and adapts a spare, strangely distant and quiet interplay on "Claw of the Moose," before the quartet finishes the live set with another arresting, noisy outburst.
.
A highly original and inventive quartet."
.
– Eyal Hareuveni, All About Jazz
.
………….
.
"In spite of the bull moose on the cover artwork whose blood-red background and the dissection in four parts of the outline of the hugest member of deer family, it's neither a leaflet for butchers nor a christmassy idea of gift, even if the debut release by this fourtet is much more interesting than the invasion of records from mainstream musicians that majors normally led in this period by means of marketing necromancers!
The initiative got drawn up by talented Norwegian vocal artist Andreas Backer who grouped Stale Liavik Solberg, a brilliant drummer who was his mate at Stavanger music academy, Swedish guitarist David Stackenas – we already met his name and his skills on some collaborative releases with Ernesto and Guilherme Rodrigues – Canadian expat double bass player Joe Williamson together and recorded this amazing live session in Sweden, where they insert contemporary classical music, free-jazz and European improv hooks as well as a remarkable numer of sonic ideas in a blender that flushes amazing dynamics out.
The opening title-track "Eye Of The Moose" manages to keep a certain poise as if they were trying to find a first cautious attunement, but things radically changes on the following tracks: "Antler Of The Moose" charges eardrums by means of twisted scratches, more dissonant interactions and swirling cracks and Backer's vocals brilliantly follows this gradual nervous breakdown and could sometimes surmise a preacher fighting against rising voltage of an electric chair; "Claw Of The Moose" digs into eardrums by the slow asphyxation that got rendered by gargling vocals, eruptive torsions and crumpled guitar strokes and the rattling final track "Tail Of The Moose", where last and almost breathless vocal runs by Andreas meet the last amazing instrumental rush of popping mute hats, thundering double-bass and tangled mess of guitar tones."
.
– Vito Camarretta, Chain D.L.K.
.
………………………..
.
"På godt norsk har det ført til åpen og sjansetakende frijazz der fire herrer med store og åpne ører møter hverandre med et utgangspunkt som sier at her kan alt skje. Og det meste skjer også. De fire «låtene», som til sammen varer i rundt 35 minutter, er et bevis på at vi med Hot Four har fått et nytt norsk/svensk kollektiv som kan ta oss med på mange spennende ekskursjoner i tida som kommer. I Andreas Backer har vi fått noe så sjeldent som et mannlig motstykke til Sidsel Endresen – det er et stort kompliment i mi bok."
.
– Tor Hammerø, Nettavisen/Side2
.
……………………….
.
"Kan man synge en elg? Kvartetten Hot Four gjør i hvert fall sitt beste! De fire sporene «eye …», «antler … », «claw …» og «tail of the moose» er en kammermusikalsk studie av elgekroppen fra hode til hale. …/… Denne plata er et godt eksempel på at noen ganger står himmelens planeter slik plassert at musikken også får et liv utenfor konsert-settingen. Det er vekslende teksturer og farger i denne musikken som gjør at den aldri blir kjedelig. Den varierer i uttrykk, på samme måte som de deler av elgens kropp den synger om.
Geviret er hardere i sin tekstur enn øynene, så også musikken. Det blir nesten et industrielt preg over deler av denne musikken før det toner ned og går over i klovene. Klovene beskrives med et innledende landskap som åpent, selve ur-landskapet, før Backers glottaler glir inn som lydene fra en løpende elgeflokk.
De tre første sporene glir over i hverandre, tydeligvis utgjorde de en kontinuerlig helhet i konserten, mens halen er skilt fra resten. Jeg skulle gjerne også fått med meg elgens skinke også!
Men nå vet vi «what the moose says»! Vi vil høre mer om elgen, og gjerne flere av hjortedyra med."
.
– Johan Hauknes, salt-peanuts.eu
.
……………………………
.
"Alla instrument ligger tätt samman när musikerna i fyra improvisationer på tillsammans trettiofem minuter betraktar en … älg. David Stackenäs, gitarrer, Joe Williamson, kontrabas, Ståle Liavik Solberg, trummor och slagverk, och så initiativtagaren Andreas Backer vars röst är ett av de likvärdiga instrumenten.
Att möta en älg i verkliga livet är en mäktig upplevelse. En tung pjäs med smidiga rörelser. Williamson doppar klövarna djupt i myren och rör sig med långsam elegans, bestämd stråke och stadiga tag i strängarna. De övriga är ivrigt klustrade runt honom och puttrar intensivt. Energin är hög, musiken oftast rätt lågmäld och samlad nära basen, och det finns alltid en rörelse framåt. Ett kurrande och knirkande och vrenskande. Metall och trä och naturljud. Avväpnande, inte utan humor och med melodiskt flyt. Europeisk kammarimpro som klivit ut i skogen för en ny frihet."
.
– Leif Carlsson, Lira
.
………………………………………..
.
"Hot Four med den norske vokalisten Andreas Backer i spetsen påminner en hel del om Low Dynamic Orchestra, med bland andra pianisten Sten Sandell. Båda grupperna har det gemensamt att de spelar med en mycket dämpad ljudnivå som dynamisk bas för musiken. Backer – i sällskap av David Stackenäs på gitarr, Joe Williamson på kontrabas och Ståle Liavik Solberg på trummor – snarare antyder sång än sjunger. Hans ordlösa stämma beblandar sig med gnidande ljud från stränginstrumenten och vrider sig likt en växt på väg upp ur jorden. Med korta, rytmiskt grupperade läten närmar han sig i stället trummorna. Så sjunker han i registret och tar nästan ord i sin mun, hela tiden mitt i gruppens samlade klangvärld. Ett slags kammarmusikalisk improvisationsmusik."
.
– Johannes Cornell, Dagens Nyheter
.
………………..
.
"I particularly enjoy finding interesting new albums from musicians I previously knew nothing about, and that is the case with Eye of the Moose by a Scandinavian quartet named Hot Four. …/… Hot Four is led by vocalist Andreas Backer (b.1981), and includes guitar, double bass, and drums. Although guitarist David Stackenäs is using some electric pickups (and producing a characteristic gong-like strum), this is the most acoustic album I'm featuring in this series. The voice doesn't seem to be manipulated electronically, although the string bass glissandi do produce some electronics-like effects. Eye of the Moose (which was mixed & mastered by Norwegian free jazz icon Frode Gjerstad) retains, for the most part, distinctly audible roles for each individual musician throughout, and despite frequent dissonance from the strings, evokes a chamber conception. (It reminds me a bit of Polylemma in this, although Eye of the Moose is not as conversational.) The other three musicians — including Joe Williamson (bass) & Ståle Liavik Solberg (drums), who are both consistently inventive — sometimes project a more ominous tone against which the humanity of the voice contrasts. Backer's voice is active throughout, not at every moment, but never gone for long. With that prominence, and the usually distinct instrumental sonorities, the musicians tend to remain in their own acoustic spaces — that is, without blurring — although they are also clearly reacting to each other. The level of activity & interaction yields a compelling mix of individual & group conception, making Eye of the Moose consistently appealing. Although the other three musicians fill out the quartet admirably, the star is clearly Backer & his vocal technique: His voice does not dominate the sonority, and might move in & out of textures, but it is active & draws the ear. There is nothing in the way of traditional lyrics (words), or (rock, etc.) screaming: The voice fits the idea of a chamber instrument in this quartet (think clarinet, perhaps, not saxophone), with its stream of soft & strange sounds. Although there's some precedent with e.g. Jaap Blonk, Backer's vocalization technique is definitely his own. Combine that imaginative technique with rich improvised quartet interaction, and you've got a highly compelling first album from these young musicians."
.
– Todd McComb's Jazz Thoughts
http://www.medieval.org/music/jazz
.
………………………
.
"Joe Williamson träder här in i rollen som Mr Impro. Hans stråkdragna droner är lika fylliga som vibrerande. Men att kalla detta dronemusik leder fel, snarare är det den typ av impro där musikerna bygger en gemensam kropp snarare än att göra allt för att sticka hål på eventuella gemensamma nämnare. Det gör att varken Joe Williamson, gitarristen David Stackenäs eller trumslagaren Ståle Liavik Solberg egentligen sticker ut, även om alla spelar bra. Vad gäller Andreas Backers ordlösa röst är den så anti-sticka-ut att den faktiskt gör det. Genom att forma klangerna långt bak i munnen får de en nästan mumlande eller hummande karaktär, långt ifrån det skrikiga eller gutturala uttryck många röstanvändare landar i. Bra tycker jag."
.
– Magnus Nygren, Soundofmusic.nu
 .
…………………………
.
"Mais dans l'ensemble, on est bien dans le cadre d'une droite lignée de l'improvisation libre telle que l'avait imaginé Derek Bailey. Un langage atonal et arythmique sans référent musical, une négation du jazz et du passé pour construire un langage neuf et personnel. Enfin tout ceci reste théorique, car au final, il s'agit d'une musique comme on en entend aujourd'hui dans toutes les salles et festivals de jazz qui s'intéressent de près ou de loin aux musiques improvisées. Alors certes oui, c'est très bien joué, il s'agit de quatre instrumentistes virtuoses et de quatre improvisateurs très réactifs, mais à un niveau musical plus général, leur musique reste assez commune malgré les quelques belles trouvailles sonores des instrumentistes."
.
– Julien Héraud, improv-sphere.blogspot.no
.
……………………………….
.
Пора поговорить и о самых современных вокальных художниках. Шведско-норвежский квартет был основан Андреасом Бакером как медиум для свободных камерных импровизированных структур, которые плывут (разумеется, настолько же свободно) между элементами музыки, опирающимися на влияния современного европейского джаза и академического авангарда.
Вместе четверо погружаются в плотное и интенсивное исследование динамики и тембра. Подобно животному, например, Лосю, музыканты путешествуют к уровням сознания, мыслящим процесс общения как что-то среднее между инстинктом и игрой. Они находят и изобретают звуки, сталкивают их без малейшей мысли о том, что может произойти потом, но тут же реагируют на случившееся. Когерентная цепочка выстраивается сама собой, несмотря на кажущуюся бессвязность происходящего.
Заочно альбом уже можно называть дебютом года и возлагать самые большие ожидания на дальнейшие релизы Андреаса.
.
– Algernon Zohar
http://vkmat.ru/voiceasaninstrument
.
.
………………………………………
.
.
Here's three video clips of the ensemble.
(Two of them recorded with iPhone.)
..
……………………..
.
.
More about the musicians:
.
http://joewilliamson.klingt.org/joe_williamson.html
http://soundcloud.com/stllvkslbrg
.
.
.
.