.
.
.
Andy's Circus
.
"Andreas Backer is a vocalist, pianist, composer and lyricist who has walked up a new path…/…With his debut, Andreas Backer has told us that he will be a tremendously exciting voice to follow the years to come."
– Tor Hammerø, Nettavisen
.
  .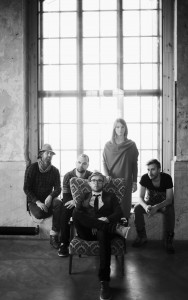 .
.
The band (Andreas Backer trio on recording):
.
Andreas Backer – voice/synth (+ piano/trumpet on recording)
Inge Breistein – tenor sax/electronics/live sampling
+
 el. bass/electronics
 drums/percussion/electronics

.
.
The ensemble performe songs, compositions and lyrics by Andreas Backer together with improvisations and tight, chamber musical interaction.
Melodies aswell as subtle musical expressions are combined with expressiveness, focus on timbre and different musical textures.
The music finds inspiration from a wide range of musical genres such as pop, jazz, free improvisation and contemporary classical music.
 The lyrics are poetic in their form, ballanced against the musical expression.
.
…………………………
.
.
Andreas Backer Quartet, including the bass-player Morten Kvam, have also been working with the project "Glass.Bead.Game" – a fusion of improvised music by the quartet and improvised film/live video by the swedish artist and animation film-maker Peter Larsson.
.
The bandmembers has played with musicians/bands such as Raymond Strid (SE), Kosmonavt (NO), Cirrus (NO), Egg 3 (NO), Kitchen Orchestra (NO), Ester & Andreas (SE), David Stackenäs (SE), Joe Williamson (CAN/SE), Frode Gjersted (NO), Per Zanussi (NO), Nils Olav Johansen (NO), Fredrik Ljungkvist (SE), Kinny & Horne (NO), Heidi Skjerve Quintet (NO), Brothers from different mothers (NO), Bjergsted Jazzensemble with (respectively) Richard Bona, Cyro Baptista and Frode Alnæs, Babe Rawlins (NO), Lars Vaular (NO) and Didrik Ingvaldsen's Extended Corner (NO), to name a few.
.
.
"Like the music isn't there"
Released on: SABmusic/Musikklosen
.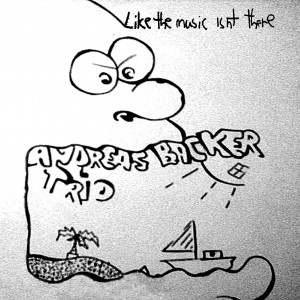 .
Said about "Like the music isn't there":
.
"NEW, EXCITING VOICE"
"Andreas Backer is a vocalist, pianist, composer and lyricist who has walked up a new path…/…Together with tenor saxophonist Inge W. Breistein and guitarist and effect-maker Kristian Gullåsen, Backer has created a landscape with elements from modern- to experimental jazz to art rock – and much of what lies somewhere in between…/…Backer is in possession of a warm and genuine voice, and he has excelent pronunciation…/…There is space in the music and he also gives the lyrics openings so that it is "easy" to follow him all the way…/…With his debut, Andreas Backer has told us that he will be a tremendously exciting voice to follow the years to come."
 – Tor Hammerø, Nettavisen
……………………………………………………………….
.
"MUSIC CROSSING BORDERS"
"Male jazz-vocalists doesn't grow on threes in the world today, but here comes Andreas Backer with an album of "art-pop" and modern European jazz with elements of improvisation…/…Original, different and exciting."
– Roald Helgheim, Dagsavisen
……………………………………..
.
.
Said about Andy's Circus, in concert:
.
"The band have much more to offer than the gentle and somehow careful way of musicians' play as well as the elegant note in Andreas Backer's vocal (who was also sporting a very smartsuit). The most noticeable thing was a complex, ingenious arrangements, which were leading the musicians separately somewhere into sideways, but as that was an intentional move, together they all sounded well and original in these fine pieces of music. A subtle, slight touch of piano phrases, Inge Breistein's partly-blown saxophone tones, as well as the guitar and percussion trails were subordinated to the leader's vocal parts, which has the most uncommon qualities. Andreas Backer's voice has some of the musical-jazz refinement and sensitivity, and can turn into higher tones with ease. As he also sings a bit "off the music" (which is another aspect of the arranging method I mentioned before) and it felt like he was just a little aside of the band. The effect enables the listeners to follow every single piece of the puzzle in the well-built structure of the music of the Andy's Circus. Andreas is also a really creative person in terms of using his vocal abilities – he was not shy to do some scat, and even throat-singing at times. He did so especially in improvised parts, like during a three-piece composition (consisting of several shorter songs) to lyrics of American poet Robert Creeley, in which the band displayed the wide range of their musical interests, hitting the audience suddenly with a juicy free/improv section. The instruments were given the opportunity to spread their wings musically, particularly Kristian Gullåsen's guitar, and in the end Jakop Janssønn's percussion went mad. Janssønn, one of the best young drummers in Norway, except for the mentioned moment didn't quite have the chance to show everything he's got but still, in beetwen his regular play, he made some curious electronic sound spots, which is integral to his style of play. In the variety of the bands' repertoire, saxophonist Inge Breistein deserves a closer look too. As second-to-the-leader in Andy's Circus, he is flexible and open-minded enough to make his tenor-sax sound smooth, jazzy or expressive at different times.
This premiere performance of the Norwegians got such a kind of reception, that the pleased musicians came back for an encore. After the concert there was time for autographs and gratitudes, which I'm sure is a good sign for the remainder of the Andy's Circus Polish tour."
– Piotr Rudnicki, jazzarium.pl
.
.


.
More info about the musicians:
.